Vitamins, Minerals Supplements
Gummy Vites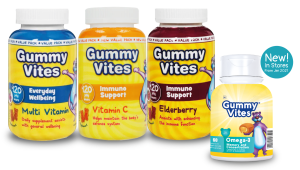 There is nothing as rewarding for a parent as seeing your children flourish and reach their full potential. Gummy Vites is a range of tasty, scientifically formulated products that provide kids with nutritional support so that they can perform at their best both mentally and physically every day.
Brand name
Gummy Vites
Description
Dietary supplement
Pack variants

Gummy Vites Immuno Support - Vitamin C

Gummy Vites Everyday Wellbeing - Multivitamin

Gummy Vites Immuno Support - Elderberry

Gummy Vites Omega 3 Memory & Concentration

Pack size

Available in 60's and 120's

Where available
Retail Stores and Pharmacies (Not all presentations may be available in all stores)
Gummy Vites Immuno Support-Vitamin C. Each jelly bear contains vitamin C 60 mg, beta carotene 30 µg. Gummy Vites Immuno Support-elderberry. Each jelly bear contains elderberry (Sambucus nigra) 12,5 mg. Gummy Vites Everyday Wellbeing- Multivitamin. Each jelly bear contains vitamin A 330 µg, beta carotene 120 µg, vitamin B2 0,05 mg, vitamin B3 6 mg, vitamin B6 1,1 mg, folic acid 150 µg, vitamin B12 1,25 µg, biotin 2,5 µg, pantothenic acid 3 mg, vitamin C 15 mg, vitamin D 6 µg, vitamin E 5 mg, selenium 10 µg, zinc 0,5 mg. SO Gummy Vites Omega 3. Each Capsule Contains: Fish oil 250 mg, DHA 87,5mg, EPA 15mg, Cholecalciferol (Vitamin D) 3,3 μg, Alpha-tocopheryl acetate (Vitamin E) 2,2 mgm, Ascorbic acid (Vitamin C) 29 mg, Eicosapentaenoic acid (EPA) 15 mg and Docosahexaenoic acid (DHA) 87,5 mg. Contains Sugar: Mannitol 207mg, Contains Sweeteners: Acesulfame Potassium 1000mg, Aspartame 1750mg. Health supplement. This unregistered medicine has not been evaluated by the South African Health Products Regulatory Authority for quality, safety or intended use. For more information, refer to your healthcare professional. ZA.15.CNM.052 08/2015 Adcock Ingram Limited. Reg. No. 1949/034385/06. Private Bag X69, Bryanston, 2021, South Africa. Tel. +27 11 635 0000. www.adcock.com 202101261083097.